Products and Services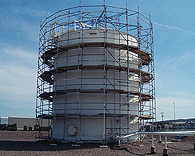 With a focus on safety and professionalism, we're committed to delivering the highest quality products and services so that our customers can maintain optimal productivity.
Columbia inventories these scaffold products; System Scaffold (Cuplok and Pinlock), wood boards, steel planks, aluminum stage boards and tube and clamp. Our equipment is produced by manufacturers that have been qualified based on their history and insurability of constructing high-quality products. Columbia recognizes timely service is a critical, we have retained third-party trucking services that ensure a 24/7 monitored response.
Safety
Our logo says it all — Safe · Scaffolds · NOW
Creating a safe working environment on every job is Columbia's #1 priority for every team member and their family. Columbia is dedicated to a proactive accident prevention mindset supported by pre-employment physicals, comprehensive substance abuse screening, job-site safety meetings, on-going safety training and incentive programs are just a few examples of our overall safety commitment.
Labor
We have a dedicated and experienced team of professionals
Our customers job requirements - maintenance, new construction, outages or turnarounds. Columbia is committed to providing experienced personnel that will maintain an environment with safe work practices, build scaffolds that comply with local and state required practices and exceed productivity expectations. We have an Experience Modification Rate (EMR) of .86. Columbia has had no lost time injuries along with no serious recordable for 17 years, since the company began in 1996.
Rental
Our priority is timely service and quality equipment
Columbia is committed to an expedited process for optimal productivity to exceed our customer's expectations. Our Quality Control Program ensures that material is received by our customers in good working condition every time.
Contact
Columbia Scaffolding Services, LTD
P.O. Box 1516
LaPorte, TX 77572
Phone:
281.842.1000
Fax:
281.842.7111
Email:


[email protected]
Pinlock System
Cuplok System